The Border Collie Crew – Meet Motley, Dazzle, and Chase!
Willowbrook Shout at the Devil – "Motley"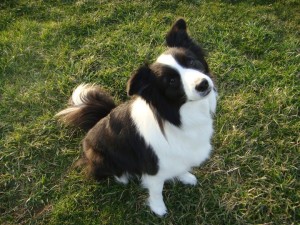 Birthdate: 8/15/2008
Nicknames: Motley Moo, Moo Face, Moo Man, Moomers, Moomie, The Moo
Motley is pretty much the reason why Jersey Shore Dogs exists. My wife and I obtained him from a breeder in 2009. We moved into our first home in November of that year and were itching to finally have a dog of our own. Initially, we were looking for a border collie puppy, but after finding Motley on the breeder's website, we new we had to at least go meet him. We took a short ride north to Connecticut where we hung out with the breeder (now a good friend of ours) and met Motley's mother (Roxie, RIP), his sister, Dazzle, and a bunch of other dogs. All of the dogs were great – good looking, even tempered, but each with its own personality. Motley was supposedly shy around male strangers, but when we walked up the driveway, he literally came right over and sat next to me. I remember Kari (the breeder) saying, "Well that's a first." Guess you could say it was a sign 🙂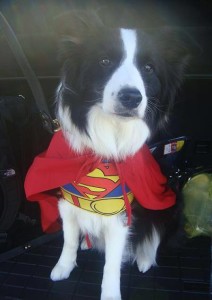 Fast forward to after we brought Motley home, introduced him to our families, got him settled, etc. One night we came home to a letter on our door, basically telling us that our dog was barking and howling constantly anytime we left the house.  We decided to video tape Motley next time we went out and to our surprise, we found out that he was literally having a panic attack – panting, pacing, barking, howling for HOURS… he had a pretty moderate to severe case of separation anxiety. After reading about this behavior problem online and in various books, taking Motley to work with me (at the time I worked for my father's business), putting him on medication, eventually – about 4-5 months later – we were able to get his separation anxiety under control. Today, he can be left alone for hours (without any issue) and he is off the medication as well. It was an extremely long, stressful, and trying ordeal, but knowing he was finally able to be by himself really helped strengthen our relationship. And, in that process, it also made me realize how much I liked problem solving and helping my dog through a really tough issue.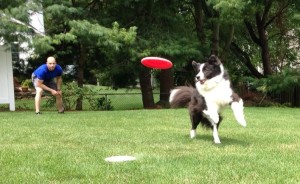 At some point during the separation anxiety training, I took Motley to a local dog behavior trainer to work on some other behavior issues. It was at that point that I was introduced to the world of "positive reinforcement-based" training. At the time, I was only familiar with more "old school" methods (e.g. force-based training), so this opened up a whole new way of thinking about how to better leverage positive things to get a dog to want to do something vs. making them do it to avoid a punishment. Train your dog without causing them pain? Amazing! This was pretty much the turning point that eventually led me to get educated about animal behavior and then later own start my own business.
Willowbrook The Devil Made Me Do It – "Dazzle"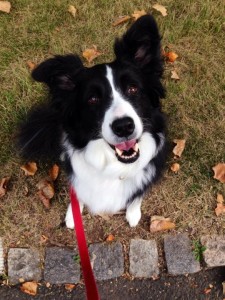 Birthdate: 8/15/2008
Nicknames: Dazzle Dog, Crazy, Stinks, Stinker
For a border collie, Motley ended up being a lap dog – loves to cuddle, loves to lay on the couch with you or in bed. He'll play Frisbee, but only if there's something in it for him (like green tripe) 🙂 This led us to get Dazzle. We met her back when we initially met Motley – they are actually brother and sister from the same litter. When we obtained Motley, Dazzle wasn't available, but between the breeder moving south and some coaxing on our end, we eventually took the trip to Connecticut four months after getting Motley to add another pup to our family.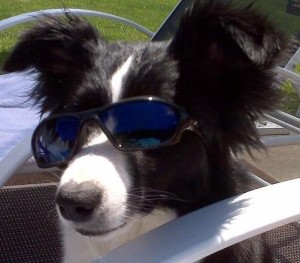 Dazzle is your average border collie, but with an off button. She LOVES to chase pretty much anything that moves – a frisbee, a ball, another dog – did I mention frisbee? She almost always has a "smile" on her face – normally a happy dog, but will let you know if she has a problem with something. She's also known to be the "fun police" and will break up any dogs that appear to be a little too rambunctious (in her mind) with their play.  On the other side, she's also known to break up a few dog "arguments" as well.
Dazzle's favorite pastime is swimming and the dog beach. Every time we try to leave the beach after being there for a few hours, she'll literally stay by the water and watch us walk to the car… just to make sure we are really leaving. One day, we took a picture of her by the pool wearing my sunglasses – this photo ultimately led to being the "model" for the future creation of the Jersey Shore Dogs logo.
Willowbrook Run Down the Devil – "Chase"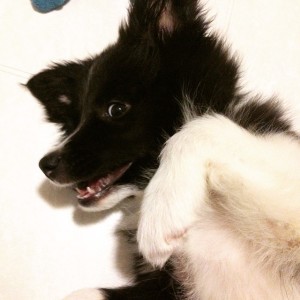 Birthdate: 2/3/2015
Nicknames: Chaser, Monkey, Monkey Man, Crazy (and more to come, I'm sure)
We obtained Chase from the same breeder that we obtained Motley and Dazzle from. For the past couple of years, every time she had a new litter, we talked about getting one of her puppies (we got Motley and Dazzle at age 2), so we could take them through puppy kindergarten and begin shaping his/her behavior from a very young age. At the time, we lived in a townhouse – two dogs were hard enough, three would've been chaos. Luckily, we ended up buying a new house pretty much around the same time the breeder had a few new litters. After careful consideration, off we went to Connecticut once again. We went back and forth choosing between two puppies from two different litters, but ultimately chose Chase (along with a strong recommendation from the breeder). Our hope is to get him to do frisbee or agility on a more competitive level once he is older and his growth plates close and body is more stabilized, but if it doesn't work out, we will settle for some backyard fun instead 🙂
Chase is completely out of his mind, crazy! Every day he makes us laugh with his antics and silly things he does. At the same time, he is also very intelligent and soaks things up like a sponge. It's amazing how quickly he picks up on tricks and behaviors – every day I look forward to working with him, playing with him, and teaching him new things. It was a little hard at first having three dogs, but now that we're in a routine, things are going much more smoothly. I've also found a new found respect for all of my clients with new puppies — you really don't realize how hard things can get at times until you're literally dealing with an unhousetrained (and untrained) puppy 24/7. I'd like to think this new experience has made me an even better trainer/behavior consultant.
One cool thing about Chase is he's actually half brother to both Motley and Dazzle (they all have the same father) so aside from being "our" family, they're technically already family by birth 🙂 We're also really glad that we were able to get Chase because (unfortunately), their father (Dev) passed away a few days after we brought Chase home. We are so honored to have three of his offspring – he was an amazing dog.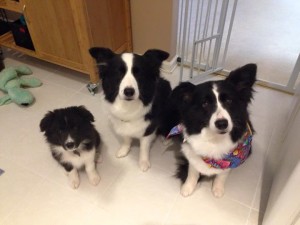 I'm sure as the months go by, I'll have many more stories to share about the border collie crew. In the meantime, check out the below videos of Chase learning the down cue, and ringing a bell via shaping.